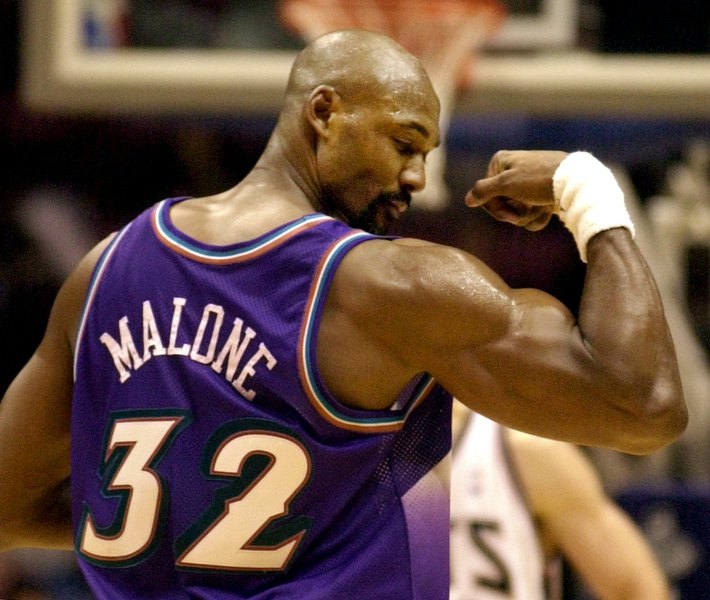 Battle of the Power Fowards
Many people love to consider Tim Duncan as the greatest power forward of all time. Like I said before, the greatest and the best are very different. Karl Malone. The Mailman is considered by many to be the best power forward of all time also.
Karl Malone put up superior numbers offensively.  Duncan won more championships and played better defense.  Duncan played with a Hall of Famer David Robinson and two future HOFers in Manu Ginobili and Tony Parker.  Malone played with fellow hall of famer John Stockton, but other than that no one but Jeff Hornacek and the likes of Greg Ostertag.  So Malone was at a serious handicap, with regard to the talent around him. I have to say Karl Malone is the better power forward.  There is a reason he is #2 on the all time scoring list, and Duncan could never average 31 ppg and 11 rpg.  He was a solid 20-10 type of guy it is impressive to average 20ppg and 10reb with other superstars surrounding you, but Malone's peak was far more impressive and had Malone played with the cast Duncan played with, he would have won just as many championships.
Tim Ducan had Four championships, three Finals MVP awards, two regular season MVP awards, 11 All-Star appearances, voted to 12 All-NBA Teams and 12 All-Defensive Teams. He Averaged overall of his whole career 19ppg,10 reb, 3 assist, 2 blks and half a steal per game.
Karl Malone won two regular season MVP awards and being named to 13 All-Star teams, 11 All-NBA First Teams, one All-NBA Third Team, three All-Defensive First Teams, and one All-Defensive Second Team. He averaged overall of his whole career 25ppg,10 reb,3.5 assist, 1 steal , and 1 blk.
Russell had the rings; Wilt had the stats.
Duncan has the rings; Malone has the stats.